This week for our
stART
project we read
The Very Lonely Firefly,
and I used a lesson from Joe's
Langauge Lessons (this can be found in navbar under "Our Curriculum")
book as our project. For one of his daily lessons we read a poem about fireflies. He was then asked to make up his own story about fireflies, and then draw a picture about fireflies the next day.

Here is Joe's story, it is titled "Lightening Bug Flicker":
One morning a firefly flew up to the sky. Why he was flying up to the sky is because it was winter. When winter was over he saw another group of fireflies and he joined them.


Then one day he snuck in a house and got some food for his firefly friends. Then he saw a dog. He sent some fleas to get on him. A cockroach bit the dog. Then, they saw a black cat and they all lived happily ever after. The End.


Here is his picture. He says this is a picture of a firefly, praying mantis, cockroach, spider, flea and grasshopper: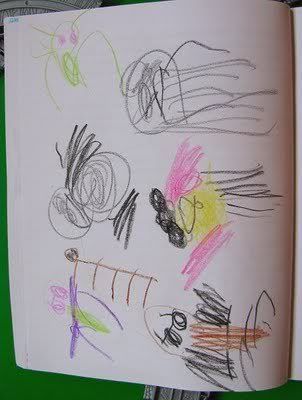 If you'd like to see what others are doing for their
stART
projects this week, head over to
A Mommy's Adventures
.