The kids made some American flag crafts this weekend and I thought I'd share them since 4th of July is quickly approaching!
Their flags are simple, but turned out cute and they had fun making them, so I'd say that adds up to a great craft:-)!
Here is the one Hanna made: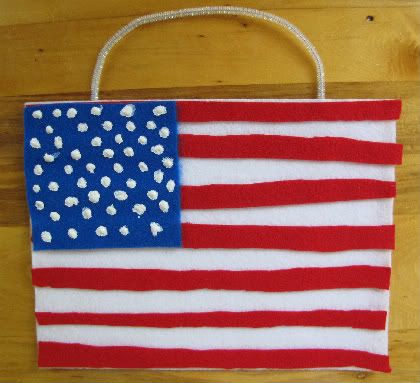 She made this using:
1 piece of white cardstock
1 piece each of white, blue and red felt
1 pipe cleaner
white craft paint
rubber cement
Glue white felt onto cardstock.
Cut 7 red felt strips and glue down onto white felt.
Cut a blue felt square and glue onto the red strips.
Use the handle of a paintbrush to make stars.
Joe made an American flag windsock: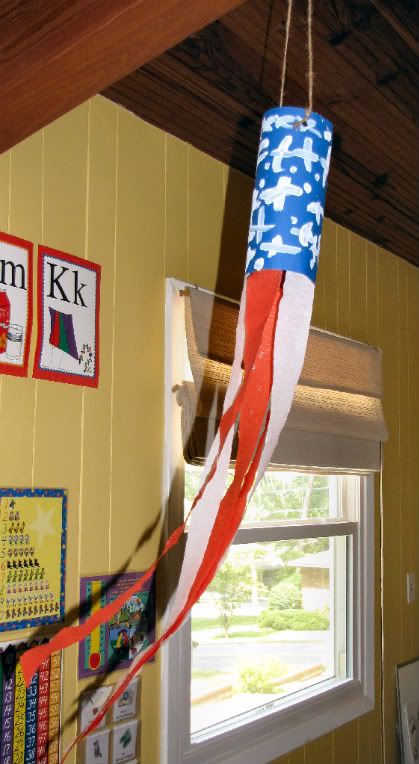 He used:
1 piece of blue cardstock
white craft paint
red and white crepe paper streamers
Elmer's glue
Hole punch (we used a star punch)
String for hanging
Paint white stars on the blue cardstock and let dry.
Glue crepe paper streamers onto backside of cardstock.
Fold and staple into a circle.
Punch holes on either side and attach string for hanging.
We are looking forward to learning about the history and meaning of the 4th of July this week and having some yummy 4th of July snacks and treats too!
*Check back later this week for another July 4th post with the rest of our craft projects (we have two more to create!) and to hear what we learned as well!*